Graphic Novel Review Bites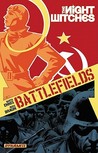 Battlefields, Volume 1: Night Witches by Garth Ennis
I happened upon the obituary of Nadezhda Popova and learned of the existence of the Night Witches. Thereafter, I discovered that Garth Ennis had written a series of war stories called Battlefields, with the Night Witches appearing in the first volume. Sometimes, it's hard to reconcile the writer responsible for such atrocities as Crossed (DO NOT CLICK if you value your sanity. Definitely NSFW), but other than the violence and depravity of war, Ennis' stories in Battlefields are quite tame and well written in comparison. And they serve the all important purpose of telling us a little bit about the oft times unsung heroes of war.
The most interesting aspect of this comic is that while Ennis is focusing on the women, he parallels it by following a troop of German soldiers during the Russian invasion. Inevitably, the two groups meet, with unexpected results. Otherwise, the comic doesn't go into a lot of detail and really doesn't give you too much depth on the subject, even watering things down a bit with a superficial love story. A Wikipedia entry would serve better to detail their lives. Still, I went from not knowing anything about these brave Russian women, to discovering that Dynamite Comics had at least recognized their worth enough to let them figure prominently in this war series.

Legends of Red Sonja by Gail Simone
Red Sonja is being hunted by a group of mercenaries who would see her beheaded, burned, skinned alive, etc for her misdeeds, not the least of which is killing their prince. As they track the She-Devil across the land, they come across many people who have known the warrior and are eager to tell their story.
This is not exactly a collection of short stories, though each section is written by a different female writer, hand picked by Gail Simone herself. Every story weaves together nicely with Simone's over-arching story of the hunters searching for their prey, while all the while revealing just how powerful and cunning their prey is as she leads them into her trap.
A fun read, though for an established fan, it's probably not an enlightening one. For those looking to step into Sonja's world, as rebooted by Gail Simone, this serves as an excellent invitation to embrace the metal bikini and the fierce warrior that unapologetically wears it.

With thanks to NetGalley for the opportunity to read an advance copy of this graphic novel in exchange for an honest review.
LES MISERABLES FALL OF FANTINE by Crystal Silvermoon
My rating: 3 of 5 stars
There have been many interpretations of Victor Hugo's Les Mis — why not a manga one? Just remember that manga is read from right to left, otherwise, you might either find this retelling very confusing, or artistically brilliant.
Personally, I found it a bit disappointing. The art is fairly typical for manga, with nothing unique about it, though it does well enough at telling the story. My problem comes in the fact that the text overshadows those images by too often stating the obvious. This might be a case of lost in translation, but really, there was just too much unnecessary repetition in the text. That said, this all works well for a much younger audience. The manga does a good job of dealing with the more mature and darker themes, without fully dumbing them down.
With thanks to NetGalley for the opportunity to read an advance copy of this graphic novel in exchange for an honest review.
Rocket Girl Volume 1: Times Squared by Brandon Montclare
My rating: 4 of 5 stars
Dayoung Johansson is a New York City cop out to save 2015 from the crimes of Quintum Mechanics made in the past, only, her investigation leads her to the discovery that her time should never have existed.
Bright and quirky is the best way to describe the writing and artistic style. Dayoung is a fun character, bounding with teenage ideals, determination and firm adherence to the rules and her responsibility as a cop. 1986 is as loud and vibrant as it should be, as is Dayoung's supporting cast.
Don't get too caught up in the science of it all. Time travel is always a tricky concept to grasp, more so if too much thought is put into it. I appreciate that the story maintained its light-hearted feel, even when Dayoung came to understand the true impact of her mission and what it means for her "past."

With thanks to NetGalley for the opportunity to read an advance copy of this graphic novel in exchange for an honest review.